Dr. George Anast Wildilfe Photo and Observation Blind
There are several purposes of the Dr. George Anast Wildlife Observation and Photo Blind. The first is to honor Dr. George Anast, a long-time supporter of the Northwoods Wildlife Center. It is hard to overstate his contributions. From providing moral support and guidance to donations of time, money and resources, it's safe to say that the Northwoods Wildlife Center wouldn't be what it is today without him!
Dr. Anast was also an avid wildlife photographer. So when considering ways to honor his legacy, the concept of a photo blind wasn't hard to arrive at. And as we discussed the blind, it quickly became apparent that this blind could, and should serve a number of purposes. So, we wanted this blind to be a little nicer than the typical photo blind.
The blind will be situated overlooking an open-bog. This type of habitat brings in dozens of bird and animal species and will provide great wildlife photography and observation opportunities. As illustrated above, it will have three walled sides with viewing ports at various heights. This is to provide opportunities to view and photography wildlife from various angles, as well as allow for children or people who would prefer to sit the opportunity to view and photograph wildlife.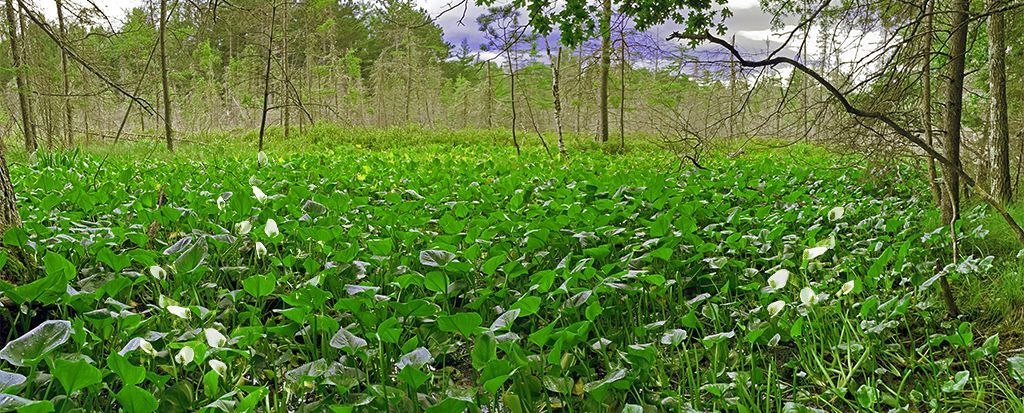 View of the bog featuring a beautiful grove of Wild Callas.
Handicap accessibility is also an important concept for this wildlife photography and observation blind. This blind will feature a level, and hard-surfaced trail that will allow people who need assistive devices the ability to safely reach the blind, There, they will find a shallow ramp and plenty of room to move around.
Additionally, the blind will be great for our education programs. A fantastic way to learn about and appreciate wildlife is through observation. This blind will allow for small groups of students to sit quietly and observe the behaviors of many animals.