Volunteering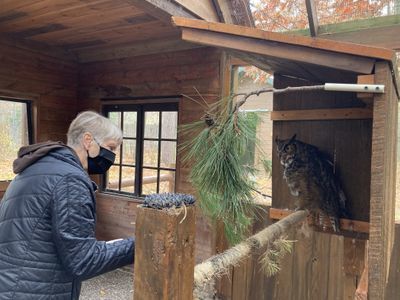 Our volunteer team is the backbone of the Northwoods Wildlife Center.  From feeding our resident animals to answering wildlife-related phone calls, assisting at fundraisers to rescuing and transporting wildlife in need, we sure keep our volunteers busy.  We are always looking to add more team members, so please join us!
We currently have openings for the volunteer positions listed below!
Must be 18 to volunteer with animals at Northwoods Wildlife Center.
Current Volunteer Opportunities
Animal Transport Driver

Help wildlife by rescuing and transporting animals that have been found injured or orphaned to the Northwoods Wildlife Center! Must have own vehicle and clean driving record. We are unable to reimburse for gas or phone calls. *Multiple positions available*

Animal Care Volunteer

Prepare food and feed ambassador birds of prey and turtles at Northwoods Wildlife Center. Cleaning cages, dishes, countertops, good observation skills, and keeping detailed records are all important requirements. Need to be able to work well with other people and independently. Volunteers must be comfortable handling dead mice, rats, quail, fish, and venison. Must be 18 years or older. * One position available on Wednesdays*

Fundraising and Events

Help plan and organize Northwoods Wildlife Center events and fundraisers throughout the year such as Annual Photography Contest and Gala, Night For Wildlife, and Fall Open House. Help NWC staff and board of directors come up with new fundraising techniques to help support our mission of providing a better future for wildlife. *Multiple positions available*