Volunteering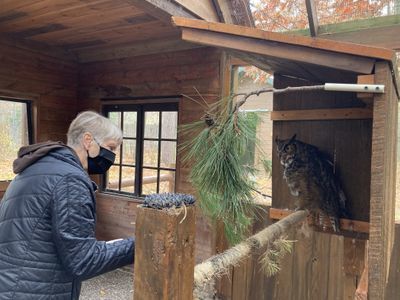 Our volunteer team is the backbone of the Northwoods Wildlife Center.  From feeding our resident animals to answering wildlife-related phone calls, assisting at fundraisers to rescuing and transporting wildlife in need, we sure keep our volunteers busy.  We are always looking to add more team members, so please join us!
Currently, we are only accepting considerations for the volunteer positions below, due to COVID. Please check back. 
IF YOU ARE A CURRENT OR RECENT COLLEGE STUDENT AND INTERESTED IN BECOMING AN INTERN, PLEASE CLICK ON THE BUTTON BELOW.
Must be 18 to volunteer with animals at Northwoods Wildlife Center.
Current Volunteer Opportunities
Animal Transport Driver

Rescue and transport animals that have been found injured or orphaned to the Northwoods Wildlife Center. Must have own vehicle. We are unable to reimburse for gas or phone calls. Drivers are most often needed during spring and summer months.

Fundraising and Events

Help plan and organize Center events and fundraisers throughout the year such as Annual Photography contest and Gala, Night For Wildlife, and Fall Open House. With help of NWC staff and board of directors, come up with new fundraising techniques to help support our mission of providing a better future for wildlife.