Volunteering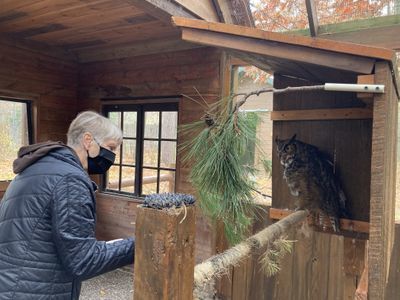 Our volunteer team is the backbone of the Northwoods Wildlife Center.  From feeding our resident animals to answering wildlife-related phone calls, assisting at fundraisers to rescuing and transporting wildlife in need, we sure keep our volunteers busy.  We are always looking to add more team members, so please join us!
IF YOU ARE A CURRENT OR RECENT COLLEGE STUDENT AND INTERESTED IN BECOMING AN INTERN, PLEASE CLICK ON THE BUTTON BELOW.
Must be 18 to volunteer with animals at Northwoods Wildlife Center.
Current Volunteer Opportunities
Animal Transport Driver

Rescue and transport animals that have been found injured or orphaned to the Northwoods Wildlife Center. Must have own vehicle. We are unable to reimburse for gas or phone calls. Drivers are most often needed during spring and summer months.

Tour Guide

Our Center houses permanent bird of prey and turtle residents that cannot be released for various reasons. Outdoor educational tours are offered throughout the year to the public. Tours last about 30 minutes, and background information is provided about all permanent residents. An outgoing personality and the ability to get along with all types of people and ages are necessary.

Animal Care Volunteer

Prepare food and feed permanent animal residents at Northwoods Wildlife Center. Cleaning cages, dishes, countertops, and filling out feeding charts are all important aspects. Need to be able to work well with other people and independently. Please note that our patients are wild and are only handled when needed and as little as possible.

Fundraising and Events

Help plan and organize Center events and fundraisers throughout the year such as Annual Photography contest and Gala, Night For Wildlife, and Fall Open House. With help of NWC staff and board of directors, come up with new fundraising techniques to help support our mission of providing a better future for wildlife.

Construction, Building Maintenance, and Woodworking

Help build new cages, repair existing ones, build/tear down fences, be a crew leader or helper on specific work party days, paint walls, and other duties.