Outreach Programming
Our nature-based programming is designed for all ages.  Programs can be scheduled for any length of time, but are generally designed to be 45-60 minutes in length.  Programs can be scheduled year-round at Northwoods Wildlife Center, at your school, school forest, lake association meeting, library, etc. See below for a list of program offerings.  Educational programs can be created or changed to best fit your organization's needs.
Birds of Prey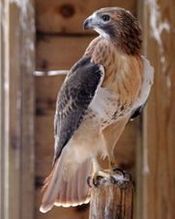 Unique adaptations help these special birds hunt and survive. Come learn about just a few. Meet one or two of our resident birds up close and personal!
---
Turtles of Wisconsin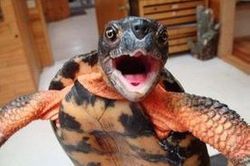 Turtles maybe slow, but they aren't boring.  Learn the ins and outs of turtles and their many adaptations that make them so unique! Hold real turtle shells, and meet a couple of our resident turtles up close and personal!
---
Wildlife Ecology and Nature Programs
Do you have a favorite Northwoods species?  NWC staff can tell you everything you've ever wanted to know about that animal and what makes it so special!  See below for a list of ecology program topics that have been previously presented.  We can also create new programs based on classroom or club interest!
How to be a Wildlife Rehabilitator
Wisconsin's Frogs and Toads
Animal Tracks
Black Bears
Common Loons
Human Impacts on Wildlife
Rocks and Minerals (small fee)
Hummingbirds
Bald Eagles
Gray Wolves
Beaver Ecology
Northwoods Lake Life
Porcupines
Fun with Fossils
Animals that Come from Eggs
Songbirds of the Northwoods
Insects of Wisconsin
Attracting Backyard Birds
Pricing is dependent on location of program. 
Program at Northwoods Wildlife Center: $5 per person (includes guided tour).  Group sizes may be limited due to COVID-19 precautions.
Program off-site: $150 + $0.55 per mile round trip. Mileage included within 30 miles of Northwoods Wildlife Center.
For more information on any of our educational offerings, contact Bart at bart.nwc8683@gmail.com or Courtney at courtney.nwc8683@gmail.com.